'69-1/2

SIXPACK / SIXBBL

REGISTRY




PLYMOUTH ROAD RUNNER SIX BARREL

VIN:  RM23M9A285669

BODYSTYLE:  2 DOOR HARDTOP

ORIGINAL COLOR: WHITE

CURRENT COLOR:   WHITE

PAINT:   REPAINT

VINYL TOP:   NONE

INTERIOR:     BLACK

CURRENT INTERIOR COLOR:    BLACK

SEATS:  BENCH

MOTOR:   ORIGINAL BLOCK

CURRENT MOTOR: 440 SIX BARREL

TRANSMISSION:   HEMI AUTOMATIC

TRANS: ORIGINAL TO CAR

SHIFTER: AUTOMATIC COLUMN SHIFT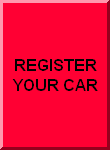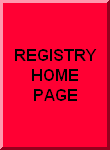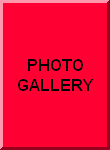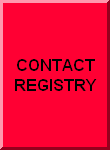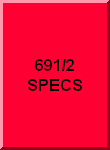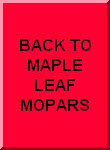 CONDITION:    FRESH RESTORATION

APPEARANCE:   STOCK APPEARING

# OF OWNERS:  THIRD OWNER

USAGE:   DRIVEN TO LOCAL SHOWS

MILEAGE: 28,325

DOCUMENTATION: I have all documentation including the broadcast sheet, fender tag, and all Factory Manuals including the rare green booklet with the special 440-6bbl Yellow sticker.  I have obtained all dealer info., order form dated 3-12-69, delivery slip, dealer invoice, and bill of sale.

OPTIONS: 

LINE 1 05134 289199 9A285669

LINE 2 926 999 93

LINE 3 26 A12

LINE 4 7X

LINE 5 W1 W1 H2X X9

LINE 6 RM23 E63 D32 426 949611

LOCATION:       COLUMBUS OHIO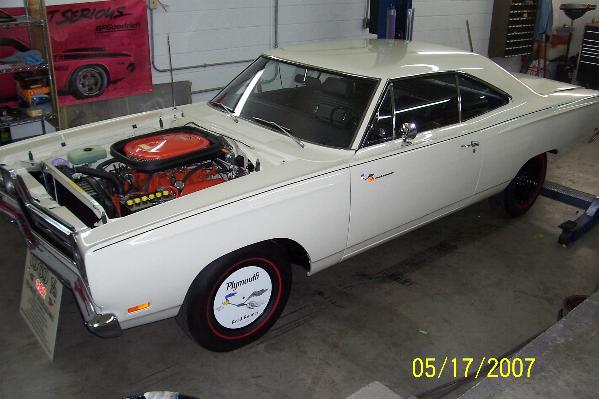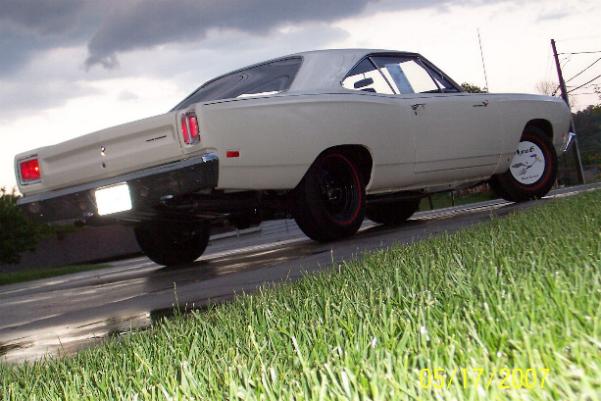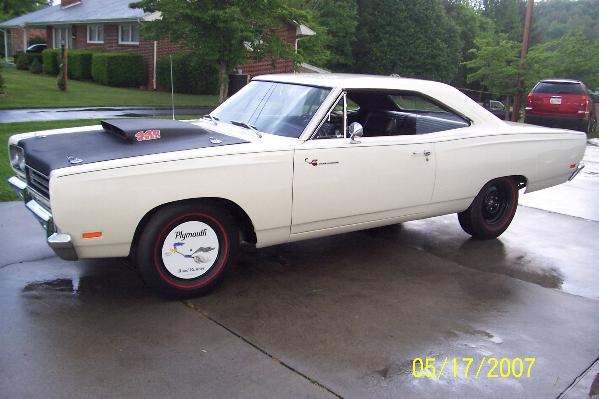 Additional Owner Comments

KNEW ABOUT THE CAR FOR 11YRS BEFORE I WAS ABLE TO TALK ABOUT PURCHASING THE CAR. I BOUGHT THE CAR IN MARCH 1999, 30 YEARS TO THE DAY OF ITS ORDER DATE FROM THE ORGINAL OWNER,

WITH 28,325 MILES ON IT. ROUGH CAR (SAT OUTSIDE ALL IT'S LIFE) BUT BODY AND PAINT WAS DONE ONCE. ANY ITEMS REPLACE I.E. WATER PUMP, DISTRIB., MISC. ENGINE PARTS WERE IN THE TRUNK. SO CAR IS 100% ORIGINAL NUMBERS MATCHING.

My Roadrunner was ordered and sold new by Bob Malcom Chrysler-Plymouth in Peebles, OH. It was professionally restored in 2007 by the amazing staff of ABM Restorations in Kingsport, TN. 

Thank you!!